Introducing ADISRA SmartView 4.0 HMI/SCADA Visualization Software
ADISRA SmartView is a powerful, Windows-based, desktop software tool that builds robust HMI, SCADA, and Client-Server programs for industrial automation applications. ADISRA SmartView provides the integrated features and functionality necessary to quickly create projects and connect to industry-standard modules, components and devices.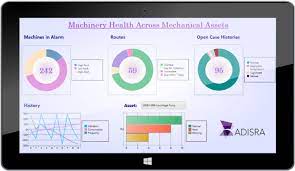 With ADISRA SmartView, you have the power to create powerful HMI and SCADA applications and easily edit them at any time. ADISRA SmartView is loaded with communication drivers to easily integrate different modules, components and devices. You can store and acquire data from external sources (OPC UA, OPC DA, Databases, OsiSoft PI, IoT and Edge Devices, PLCs, and the Cloud).
DEVELOPMENT
Powerful visualization tools that include thousands of built-in symbols from Software Toolbox's Symbol Factor.
CONNECTIVITY
Seamless connectivity with devices, using the most popular industrial protocols as well as standards-based protocols such as MQTT, OPC UA, OPC DA, OPC HAD
with others PLCs such as Omron, Siemens, TwinCAT-ADS, Mitshubishi, TXRX ( general ) & Wep API.
DEPLOYMENT
Easy deployment to HMI panels, control rooms, edge devices, cloud platforms, virtualized servers, Web-browsers and mobile devices.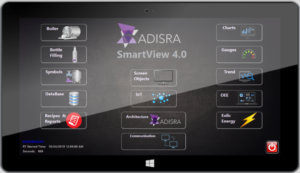 Features Overview
 Integrated development environment with all the features to build HMI, SCADA, OEE  and IIoT applications.
 Powerful visualization tools that include  thousands of built-in symbols from Software Toolbox's Symbol Factory. ADISRA
SmartView enables you to gather data from various systems, aggregate, evaluate the state and visualize the result
 Seamless connectivity with devices, using the most popular industrial protocols as well as standards-based protocols such as
MQTT, OPC UA, OPC DA, OPC HDA with others PLCs such as Omron, Siemens, TwinCAT-ADS, Mitshubishi, TXRX ( general ) & Wep API.
 Easy deployment to HMI panels, control rooms, edge devices, cloud platforms, virtualized servers, Web-browsers and mobile devices
DataSheet