Smart Manufacturing
The emergence of high performance, intelligent industrial computer solutions has led to the rise of smart manufacturing. The use of robotics and machine vision in warehouses and production lines has resulted in higher efficiency and quality product output, as well as less waste of raw materials. It also lessened the need for human labor due to the machines' ability to examine items on the production line and accurately detect defects faster. There has been significant process improvements in factories that led to more productivity and faster logistics fulfillment. Predictive maintenance, which involves monitoring the condition of machines and "predicting" when the machines will start to fail, has allowed companies to conduct maintenance on them in advance to eliminate the risk of costly downtimes.
The building blocks for smart manufacturing involves the right software, as well as versatile, feature-rich industrial and highly reliable computer hardware with purpose-built features such as PoE ports for connection with cameras. Some offer support to protocols such as EtherCAT, allowing for better machine-to-machine communications. Some offer rich interfaces for connections to sensors and other devices. The concept of smart factory has become a reality with the development of more advanced hardware solutions.
Computer Solutions for Smart Factory
Axiomtek, a leading design and manufacturing company of industry-specific computer solutions, has developed its expertise in the industry for the past 30 years and created many advanced industrial computer solutions for OEM/ODMs and smart factory systems integrators that are versatile and easy to integrate. For example, one of the many advanced fanless embedded systems purpose-built for smart factory, the eBOX671-521-FL, is designed to be future-proofed and easy to deploy. It can be used as an edge computing controller and is a great choice for robotics, AI, deep learning and vision-related applications with GPU computing capabilities and its 4-CH PoE ports and rich interfaces are ideal for sensor connections. The eBOX671-521-FL offers scalable Intel® CPU choices and an option of enhancing performance with the MXM 3.1 Type A slot for interconnecting a GPU module, an ultimate way to double its capabilities for performance and to include enhanced graphical display. It also comes with Axiomtek's proprietary intelligent remote monitoring software, the AXView 3.0. Our video showcases our solution eBOX solution and its capabilities.
Another example of a system designed for smart factory use is the highly expandable and easy to customize vision controller, the IPS962-512-PoE. This feature-rich computer has four PoE GbE LAN ports for camera interfaces and an integrated real-time vision I/O that includes 16-CH isolated DIO. The IPS962-512-PoE's scalable CPUs, great expansion capability and modularized design makes it a versatile choice to meet the requirements of many projects.
IIoT Gateway to Enhance the Bottom Line
Axiomtek also offers a flexible Internet of Things (IoT) gateway controller, the ICO500-518. Its scalable, modular design with plug-in I/O modules offers a cost-effective and fast way to customize this feature-rich, compact controller. The ICO500-518 offers many connectivity options and various useful features that include wide operating temperature and wide power input ranges for reliable operation in harsh factory environments. The gateway allows for IoT connectivity through the cloud, better analytics and learning, and also enhanced machine-to-machine communications. This gateway solution can help improve productivity level and overall operational performance, reduce costs and ultimately increase profitability.
Human Machine Interface Considerations
Smart factory operations rely heavily on the use of human machine interfaces (HMI) such as touch panel PCs, to control specific production functions. Axiomtek offers a wide range of HMI, including multi-touch panel computers and industrial-grade displays. The touch panel computer options are comprehensive, ranging from stainless steel, heavy-duty to light fanless models in our GOT series. Notable is the rugged GOT3177T-311-FR, a 17-inch SXGA TFT flat, resistive touch panel computer with modularized design for flexible and fast customization. It offers dual-display capability, and with its widescreen format, the HMI extends its visible areas and enables users to view more than one program window side-by-side, increasing productivity and efficiency. The GOT3177T-311-FR is durable, with an IP65-rated bezel, extended operating temperature of 0°C to +60°C and up to 1G vibration. It can also be equipped with an optional PCIe riser card expansion slot to allow for more customizations.
Our industrial touch display choices are also comprehensive. An example is the P6157W-V2. It features a 15.6-inch WXGA TFT 400 nits LCD with projective capacitive multi-touch and is NEMA 4/12 (IP65) compliant. It offers a full range screw-type, lockable AC-in and optional 24V DC-in for extra secure operations.
The Road to Project Deployment Success
Axiomtek's embedded systems, vision controllers, IoT gateway controllers and all-in-one touch panel computer products are made to support your project success. As a customer-focused organization, we also believe in personalized, "take the extra miles" service model to help our customers succeed. Our experienced support teams include design, application, hardware and software engineers as well as project managers, product managers, R&D and additional local resources. The teams are accustomed to smart manufacturing applications and demanding projects. They continue to get high ratings from our customers for their customer-centric approach in helping our customers design, customize and deploy their projects as well as with post-deployment support.
Autonomous Mobile Robot Solution
Demands of autonomous mobile robots (AMR) are increasing rapidly due to increased use in manufacturing automation and e-commerce, as well as widening labor shortage. The real-time data collection and predictive/reactive capabilities are crucial in AMR applications. AMR requires high-performance edge AI computers to quickly process and execute sequential movements. Numerous I/O interfaces are needed to connect with cameras, sensors, control boards, displays, and other end devices.
Our Solution
Axiomtek has proposed its eBOX560-52R-FL, an ultra-compact control system. The eBOX560-52R-FL is a powerful yet compact system suitable for being the control core of the AMR. It is powered by the Intel® Whisky Lake ULT processor and delivers high performance even when processing multiple data inputs and outputs. The system supports dual GbE ports and 4 USB ports to connect to various sensors and devices, along with one 2.5" hard drive bay that allows the system to store massive data to be transmitted to a control room or other edge computers via WiFi. We also provide customized BIOS and refined hardware specifications, allowing customers to create automated mobile robots suitable for the Industry 4.0 environment.

Key Features
Onboard Intel® Core™ i5-8365UE or Intel® Celeron® 4305UE processors
One M.2 Key E 2230 for Wi-Fi module
260-pin DDR4-2400 SO-DIMM, max. up to 32GB
2 GbE LAN and 2 USB 3.1 Gen2
Supports DisplayPort++ and HDMI for dual independent displays
Ultra-compact size and fanless design
Wide temperatures ranging from -10°C to 50°C
DIN-rail mounting design
Industry 4.0 Makes Factory Smart
The New Era of Industry 4.0
In general, Industry 4.0 refers to a combination of digital technologies currently coming to maturity, including advanced robotics, artificial intelligence, sophisticated sensors, cloud computing, the Internet of Things, data acquisition and analytics, digital fabrication, and the embedding of all these elements in an interoperable global value chain, referred to as cyber-physical integration, on which all elements can now interact with one another using standard Internet-based protocols and analyze data to predict failures, configure themselves, and adapt to changes. Therefore, Industry 4.0 has created what has been called a "smart factory", making it a reality to gather and analyze data across machines, thus enabling more flexible and more efficient processes to produce small volume goods of richer diversity and higher quality at a lower cost in a speedy fashion.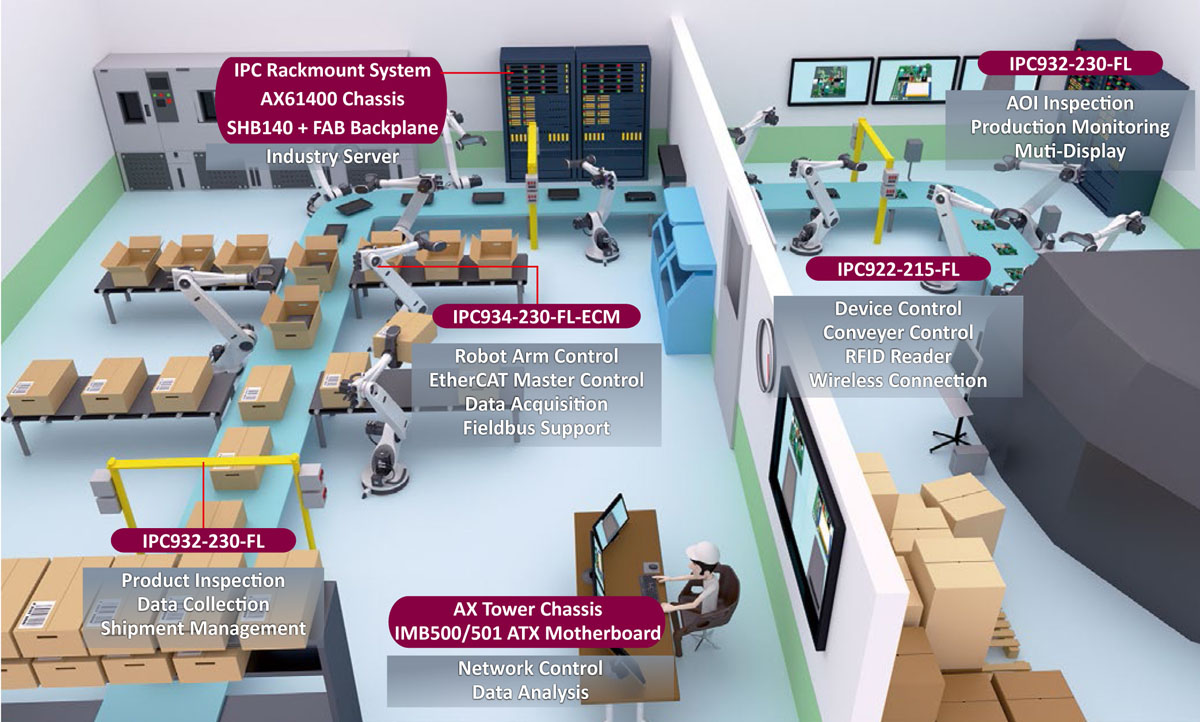 Axiomtek's Smart Factory Solutions
On the one hand, Information Technology (IT) is utilizing data and information gathered through intelligent products and services, enabling manufacturers to better understand their customers whose experience in the age of Industry 4.0 is driven not only by physical objects, but also by data, information about the products and analysis on such data and information. On the other hand, Operating Technology (OT) is also helping improve the utilization of products, services and intelligent assets. For example, a company may incorporate smart monitoring sensors into its inhaler product lines for real-time data collection and analysis to improve manufacturing efficiency, maintain high quality and shorten lead-time of customization. Taking advantage of the cutting-edge IT and OT, Axiomtek's reliable embedded solutions have made building smarter factory infrastructure unprecedentedly effortless.
The Competitiveness of Axiomtek plus KINGSTAR
Axiomtek, a leader in industrial PCs, has integrated its embedded systems with KINSTAR – a complete software platform for motion control, machine vision and programmable logic controllers (PLC) built on EtherCAT standards and supported by a 64-bit Windows real-time operating system (RTOS) – to give engineers leverage in designing, developing complex hard real-time systems, quickly and cost effectively, previously impossible with hardware, but now achievable in the Industry 4.0 environment. With superior PC processing power, faster motion control and machine vision networks, soft motion technology can potentially eliminate the use of hardware motion control and machine vision boards. Such an Axiomtek plus KINGSTAR solution can perform functionalities in stand-alone motions on machine vision controllers while splitting them among more capable drives and faster PCs, hence reducing programming costs, complexity and time, while improving programming maintenance, motion control and precision performance, overall delivering greater durability, reliability and data availability for factory automation.
Compatibility and Expendability
Overall, Axiomtek has offered a wide array of IPC series products, from entry-level to high-end, which fully support EtherCAT standards. Specifically, Axiomtek's IPC932-230-FL-ECM, IPC922-215-FL, and IPC934-230-FL can support EtherCAT protocol at board level. Lastly, but not least, Axiomtek's IPC solutions also support compatibility and expandability beyond board level through Fieldbus, expansion slots and IO cards. Furthermore, for system expansion, or to help reduce deployment and development time, specific motion or vision cards can be inserted into our various IPC series products along with an EtherCAT software bundle to facilitate product manufacturing and inspection, thus accommodating different user demands.
Machine Vision Solution
Machine vision is a technology that utilizes sensors, industrial cameras, I/O control hardware and vision software algorithms to extract information from captured images, providing imaging-based inspection analysis and visual guidance for production line operations. As a crucial part of factory automation, the technology is widely implemented in automated product inspection to enhance quality control, as well as in the assembly process to guide robots and adjust machinery behavior. Machine vision gives manufacturing equipment the ability to see and identify objects just like the human eye—yet with far greater speed and precision. Systems incorporating machine vision are able to examine massive numbers of parts within seconds and deliver consistently reliable and accurate inspection results despite long hours of repetitive operations. Aided by high-resolution cameras and sophisticated optics, machine vision systems can also distinguish subtle differences too tiny to be discerned by human inspectors.
Axiomtek, an enthusiastic Industry 4.0 advocate as well as a global leader in innovative technologies for factory automation, is launching a series of industrial-grade system controllers and I/O hardware solutions to streamline the development of a variety of machine vision applications, aiming to help manufacturers make the best of their vision platforms and to transform their conventional plants into fully automated smart factories quickly, economically, and with the least deployment and maintenance efforts.
Machine Vision Controller – IPS960-511-PoE
The IPS960-511-PoE is a highly integrated vision controller built expressly for machine vision applications. Featuring an industrial-grade IP40 rugged design, excellent computing performance, flexible expansion capacity, as well as real-time vision I/O control and camera communication interfaces, the machine vision controller provides a total solution that addresses the needs across various machine vision platforms and automatic inspection cases.
Integrated real-time vision I/O
Real-time I/O guarantees instant machine control and response. With its CPLD (complex programmable logic device) architecture, the IPS960-511-PoE is able to perform encoder input, camera trigger, LED lighting control and other vision I/O tasks. The controller also allows users to set the timing with microsecond-scale control, making the system a highly efficient digital I/O platform to harness all machine vision peripherals in real-time.
Dimming control
The IPS960-511-PoE supports lighting dimming control through the use of pulse width modulation (PWM) and constant current, to help identify object characteristics for different inspection types.
Camera interfaces
The IPS960-511-PoE has a complete set of Gigabit Power over Ethernet (PoE) ports and USB 3.0 ports for connecting industrial cameras. The Gigabit PoE ports enable Ethernet transmission at 1 Gbps to achieve high-speed image acquisition performance, meanwhile sending power to cameras using the same Ethernet cable that transmits data. The remote smart on/off function of the PoE ports enabled by power management also provides monitoring and control for various devices.
SDK with rich Library & API
By incorporating Axiomtek's software development kit (SDK), the IPS960-511-PoE provides rich library and API resources for system designers to develop applications specific to their vision I/O configuration needs, achieving desired hardware-software integration and collaboration.
4-port PCI Express GigE Frame Grabber Card – AX92320
Axiomtek's AX92320 supports PCI Express x4 lane, four independent Gigabit 802.3at (PoE, Power-over-Ethernet) compliant Ethernet ports and GigE Vision camera compliance. The 4-port PCI Express x4 frame grabber can provide up to 30 watts at 54 VDC power per port, which allows power to be supplied to connected PoE-based devices, such as GigE Vision cameras in machine vision systems. The intelligent GigE Vision card also supports IEEE 1588 (precise time protocol), enabling synchronization with the multi-camera acquisition. Combining IEEE 1588 and PoE function, the card utilizes a single Ethernet cable for power, data, and synchronization.
Real-Time Vision I/O Card – AX92350
The Axiomtek's AX92350 is a PCI Express x1 vision card with vision-specific I/Os and real-time controls. A machine vision system requires accurate interaction between lighting, cameras, actuators and sensor devices. The AX92350 vision I/O card integrates LED lighting controller, camera trigger, encoder input, and digital I/O to connect and control all the vision devices. The encoder input function is particularly suited for conveyor applications. The vision I/O card supports 4-CH trigger input, 4-CH or 8-CH trigger output, 4-CH LED lighting control, 1-CH quadrature encoder, 8-CH isolated DI and DO, plus 1-CH auto measurement function for rugged machine vision and video surveillance applications.