AI Vision in Classification for Electronics Industry
With the rapid development of artificial intelligence (AI) and machine learning technologies, the electronic hardware manufacturers working within extremely tight tolerances increasingly look to AI solutions to expand its inspection capabilities to increase yield, improve product quality, and increase operational efficiency. With the unique ability to label the images or videos, the deep learning-based classification has become an appealing option for the electronics industry. It can identify objects on the production line with the best level of accuracy.
For electronic hardware manufacturers, all components that vary in shapes, sizes and locations must be carefully inspected and classified early in the production process. They need an over-all and efficient AI-based solution to perform deep learning training and inference tasks to increase inspection speed and accuracy. The solution must use a high-performance Intel® Core™-based AI system and with the supports of Intel® Edge Software Hub for Industrial and Intel® OpenVINO™ toolkit to complete training and inference. In addition, the AI system must integrate real-time vision I/O for connection to triggers and optical sensors and support multiple camera interfaces to accomplish various applications involving machine vision.

Main Requirements
High-performance Intel® Core™ processors
Supports Intel® OpenVINO™ toolkit
Supports Intel® Edge Software Hub for Industrial
High-resolution industrial cameras
Axiomtek AI Starter Kit
Axiomtek has proposed its AI Starter Kit, a completed starter kit featuring a high-performance Intel® Core™-based AI edge platform IPC962-511-FL with high-computing GPU/VPU support, a high-resolution camera, and built-in Axiomtek AI suite (AIS) based on Tensorflow Framework, Intel® Edge Software Hub for Industrial and Intel® OpenVINO™. This application-ready package enables manufacturers to ease the development of vision applications within automation.
The hardware platform, IPC962-511-FL, is a 2-slot fanless industrial system with LGA1151 Socket 7th/6th Gen Intel® Core™ i7/i5/i3 & Celeron® processor. It comes with front-access I/O and adequate PCIe and PCI Slots. The Axiomtek AI Suite (AIS) is based on Intel® Edge Software Hub for Industrial to implement from deep-learning training to inference. It comes with web apps design and intuitive user interfaces, helping the users deploy AI without coding. By supporting both model optimizer and inference engine, this all-in-one implementation covers the needs from training to inference.

Smart City Surveillance
Smart city surveillance plays an important role in improving the quality of life and safety and security of the public. Technologies such as real-time video surveillance, traffic management, facial recognition, and license-plate recognition are becoming widely used to help ensure public safety. In order to withstand outdoor conditions, the outdoor intelligent surveillance devices and systems need to be durable enough to withstand direct sunlight, extreme temperatures and dust. Ruggedized components and sealed connectors should be used in devices that are commonly exposed to these harsh elements. Axiomtek has developed a series of rugged edge AI embedded systems to cope with the increasing demand for AI-based surveillance in harsh and outdoor environments. This product line is dedicated specifically to Al inference, image processing, GPU computing, machine learning, etc.
Our Solution
The outstanding AIE800-904-FL is powered by the NVIDIA® Jetson Xavier™ NX platform which has a powerful 6-core NVIDIA Carmel ARM® v8.2 (64-bit) processor and 384-core NVIDIA Volta™ GPU complex to deliver exceptionally AI computing performance. It adopts a full IP67-rated extruded aluminum and heavy-duty steel case for dust protection and water resistance. To withstand extreme temperatures and drastic weather conditions such as lightning strikes, the eBOX800-900-FL comes with a wide operating temperature range of -30°C to 60°C and a built-in 10kV surge protection. It also features M12-type I/O connectors and four N-jack waterproof antenna openings to ensure operational stability in rugged environments. The AIE800-904-FL is ideal for AI edge computing and deep learning applications in a smart city.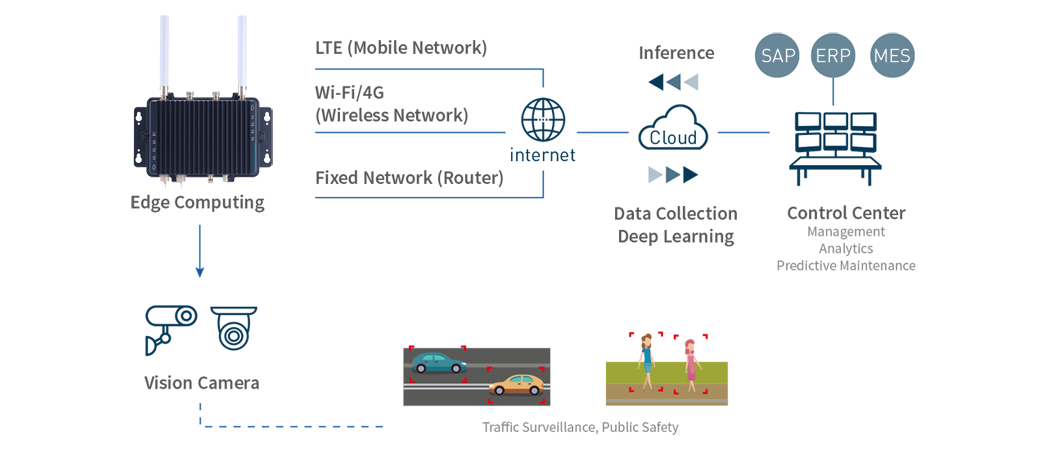 Key Features
IP67-rated design, specifically for outdoor environments
NVIDIA® Jetson Xavier™ NX with Volta™ GPU architecture with 384 NVIDIA CUDA® cores
High performance, GPU accelerated computing
-30°C to +50°C operating temperature range
100 to 240 VAC wide range power input with 10kV surge protection
4 N-jack antenna openings with waterproof design
W1 IEEE 802.3at GbE PoE (30W)
Features M12 lockable I/Os
Supports Allxon Device Management Solutions (Allxon DMS)
AI at the Edge: The Eye of IoT
Artificial intelligence (AI) is everywhere these days. In order to meet the needs of various AI applications, Axiomtek has developed a series of edge AI embedded systems with various form factors and configurations: from the low power consumption yet high-performance embedded systems to the server-grade industrial PCs, helping customers achieve operational improvements, productivity increases, and cost reductions in manufacturing, transportation, agriculture, smart cities, and retail industries. Developers and system integrators can utilize pre-trained inference models to build a variety of computer vision programs with their datasets, encompassing the tasks of image classification, object detection, facial recognition, people counting, surveillance video analytics, license plate recognition, vehicle tracking, industrial machine vision inspection, and so on.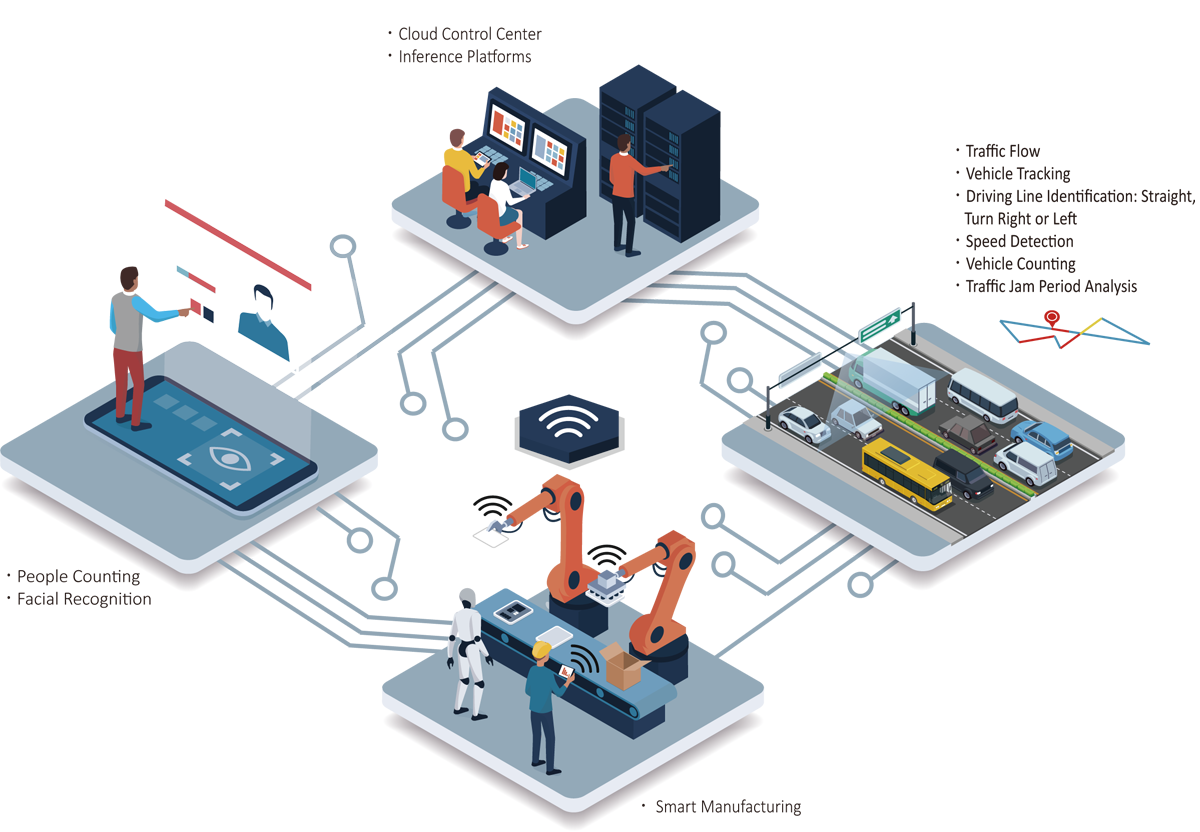 Personal Protection Equipment (PPE) Detection & Access Control
Safety and security at the workplace have always been the major concern of every employee and employer in every industry. In order to prevent the risk of accidents and reduce the chances of injuries and death, personal protective equipment (PPE) detection plays an important role in the workplace. Axiomtek's AI-enable embedded system not only helps to detect whether workers are wearing their safety vests and helmets properly but also validate their authorization before workers enter the site.
Automated Optical Inspection
Today's printed circuit boards (PCBs) are becoming more complex with smaller and more densely compact components. By integrating artificial intelligence (AI), automated optical inspection (AOI) is able to expand its inspection capabilities through machine learning, which facilitates increased yield, improves fabrication operations and processes, and reduces manual operations. In order to process images and signals quickly and accurately, the AI-enabled embedded vision system with the high-performance Intel® processor and support of the OpenVINO™ toolkit is required. The embedded system must integrate real-time vision I/O to connect triggers, optical sensors and LED lighting control and support camera interfaces to achieve automated online inspection.
Smart Packaging
Packaging affects every single part of logistics operation throughout supply chains. To reduce labor costs and boost productivity, AI can make the operation smarter. Through the combination of the 3D camera, robotics arm, barcode scanner, and AI, Axiomtek's edge AI system helps accelerate the processes of carton dimension measurement, carton classification, carton color detection, pallet optimization, and more. By integrating wireless connectivity and cloud services, the data analysis result and freight information can be transferred from the edge to the data center and monitoring center for further use in data optimization, freight tracing, and freight management.
Traffic Management
The traffic management program involves the implementation of an on-site video IoT solution with edge AI processing power to analyze live video feeds from street surveillance cameras. It aimed to provide timely traffic control via real-time video content analysis, meanwhile relieving the burden of transferring large video datasets back to the cloud for analysis. Axiomtek's rugged edge AI computing system, with its PoE camera connectivity, deep learning capability, as well as ruggedized design for harsh outdoor use, was deployed to facilitate traffic management by performing the tasks of computer vision-enabled video analytics.